The new Thrillseekers event goes live TODAY in Apex Legends.
Apex Legends Season 10 is still sometime away, but Apex are filling in the void with a brand new event - Thrillseekers.
This new event cranks up the action a notch with a new Arenas map, weekly rewards tracks and splashy new looks.
Not only that, but some fan favourite bundles return with Summer Splash!
Here's what we know about the Thrillseekers Event in Apex Legends.
The Thrillseekers Event begins on the 13th July 2021.
We expect the new event to start at 6pm BST.
Running for a whopping three weeks, the event will come to an end on the 3rd August 2021.
With the new update, expect the following on launch day:
New Arenas Map: Overflow

Weekly Rewards Tracks

Cosmetics And Skin Sales

Bug Fixes, Weapon Balancing, Legend Changes and Quality of Life Improvements
These will be further detailed once the update goes live.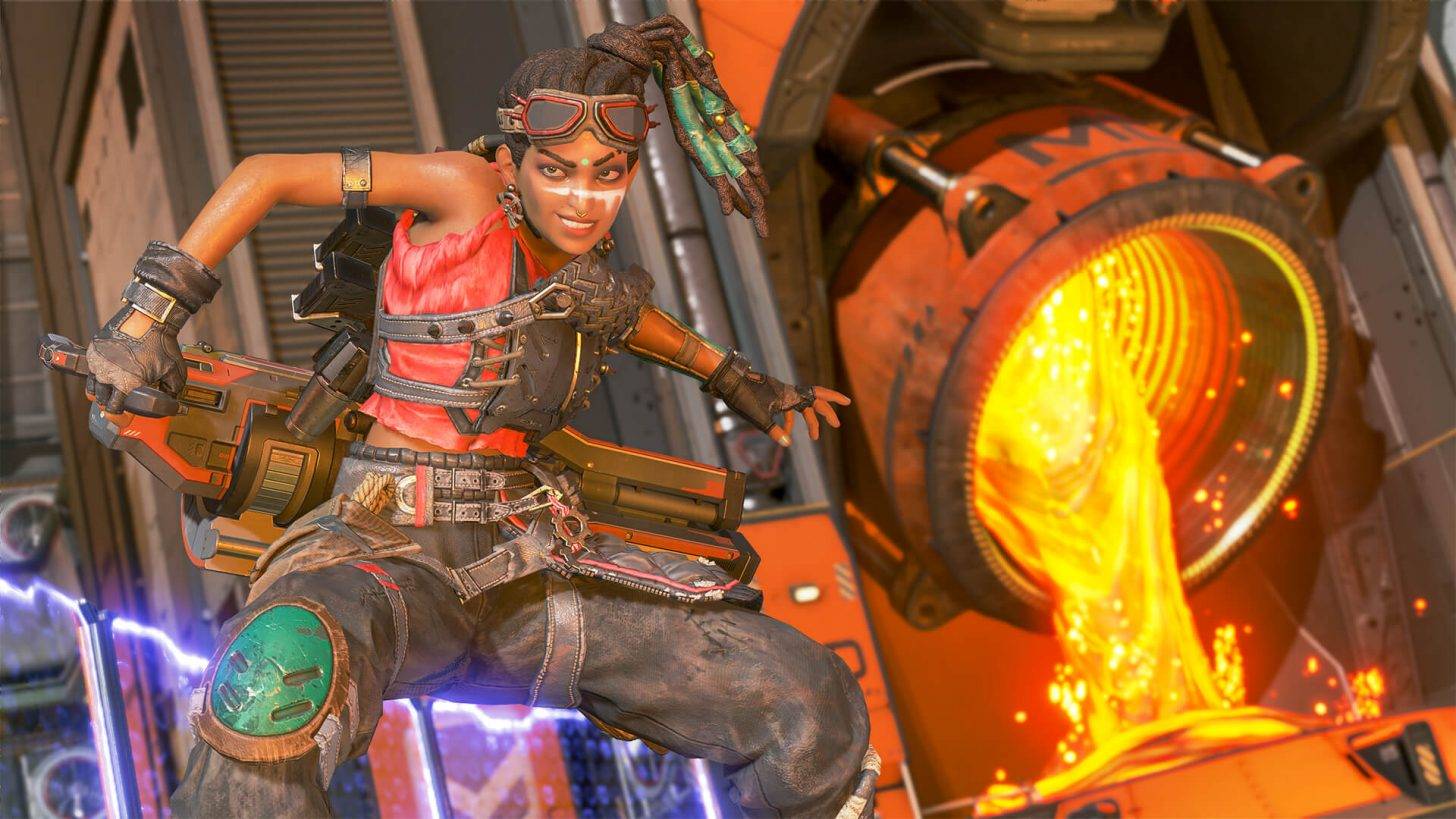 The new Arena map is called 'Overflow' and differs from others as it's lane focused.
Each location is separated by tall, lava-filled structures. With this separation, players cannot easily spot early decisions made by the other team and will need to stay vigilant before committing to a side or risk being flanked.
There are opportunities for long-range engagements, but combat tends to favor short-to-medium ranges along either POI: Overlook or Slope.
Overlook is a long, open area with a central interior that gives a height advantage over this POI. While this area is perfect for snipers or DMRs, players may want to hold the interior to control not only this area but their flank as well. Slope, as the name implies, offers both a high ground and a unique area where players can slide down to a remote part of the map. This area can be used for sneaky flanks or defensive setups where players may not expect it.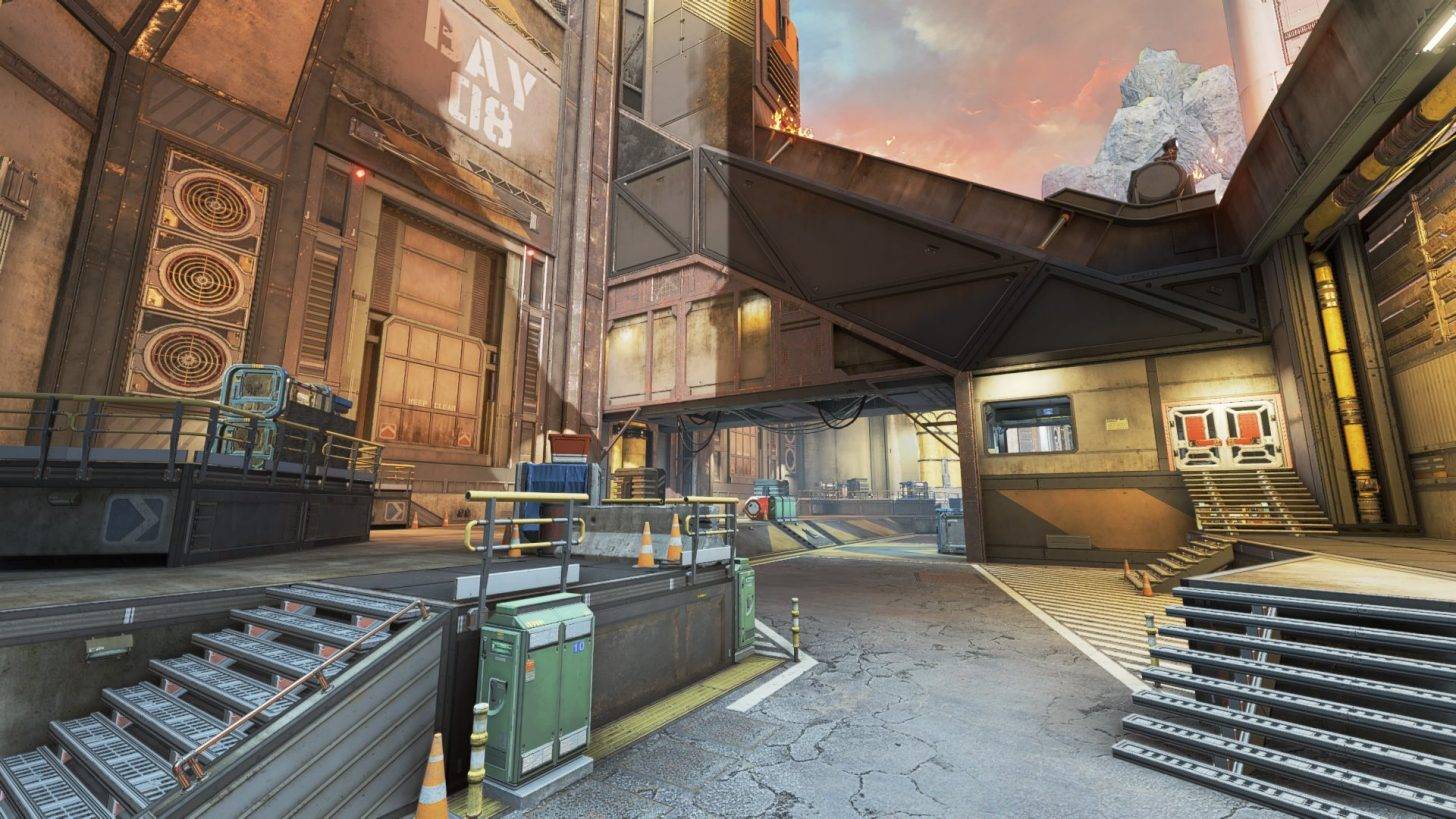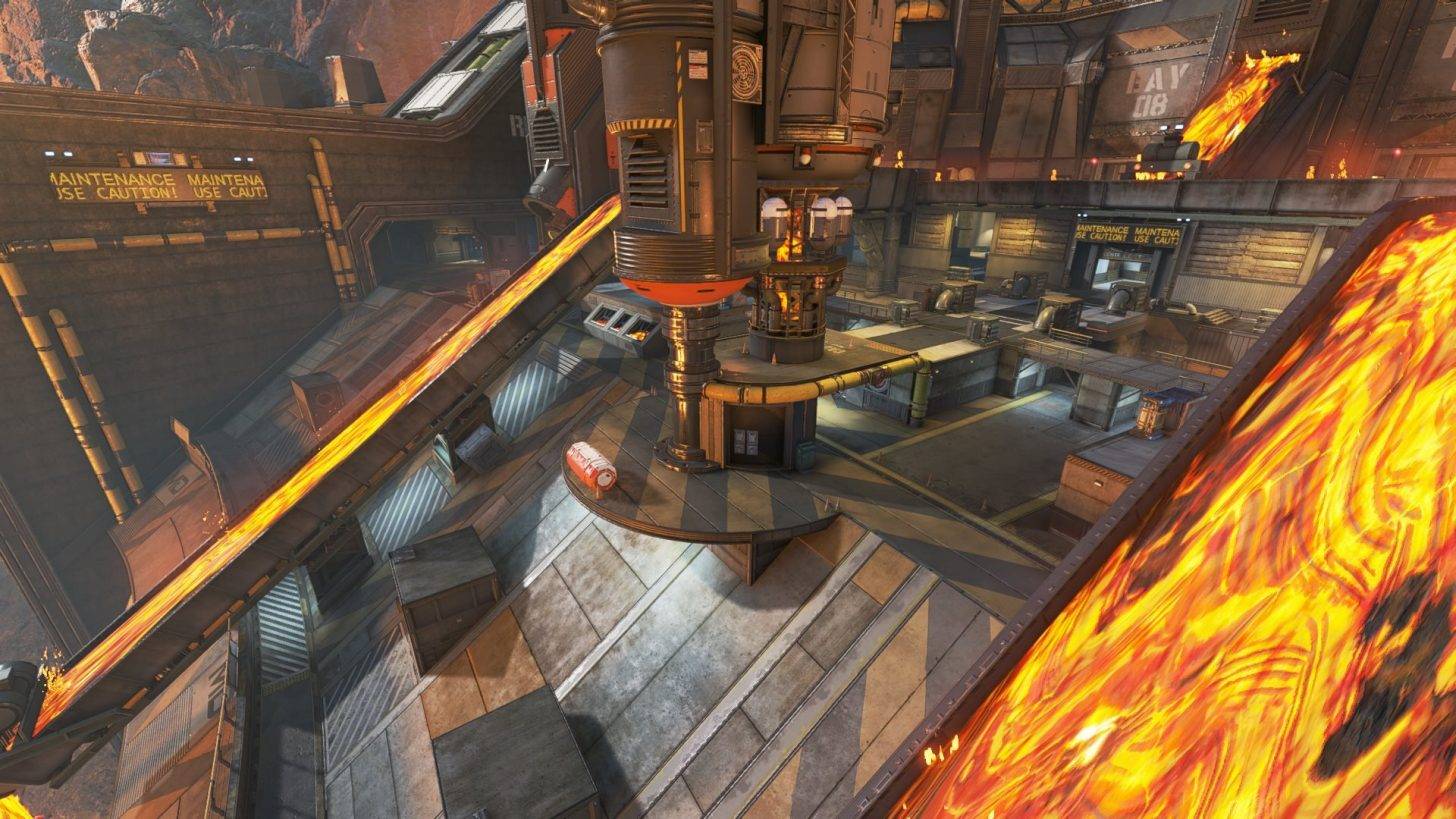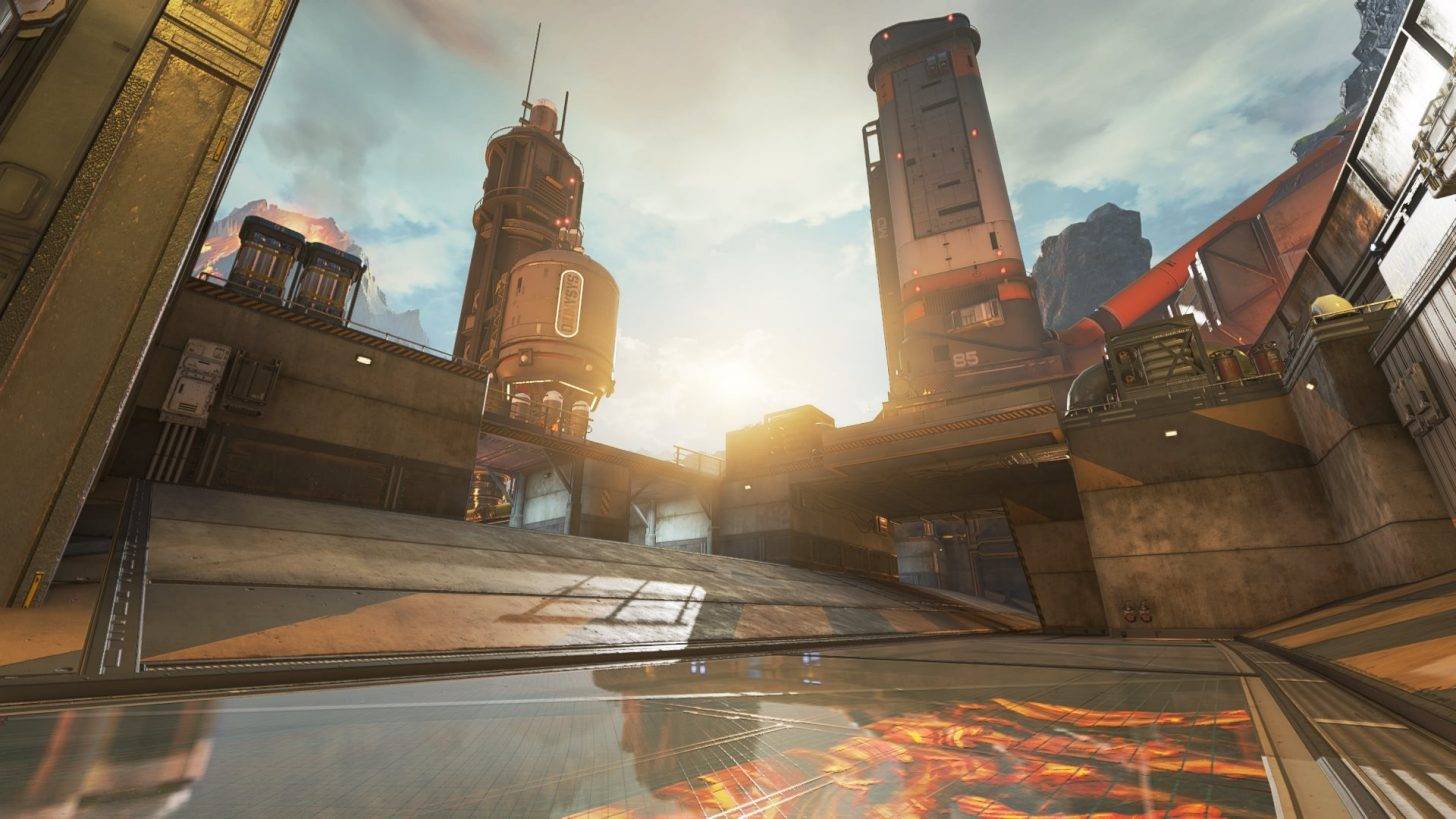 Players will get weekly Reward tracks, giving them opportunities to gain new items, boosts and exclusive cosmetics.
Week 1 gives players the chance to unlock the Rampart Wastelander Set (includes a gun charm, weapon skin and a Legendary Rampart skin)

Week 2 grants Battle Pass boosters, crafting metals and Apex packs

Week 3 includes the Lethal Enforcer Banaglore Skin along with other goodies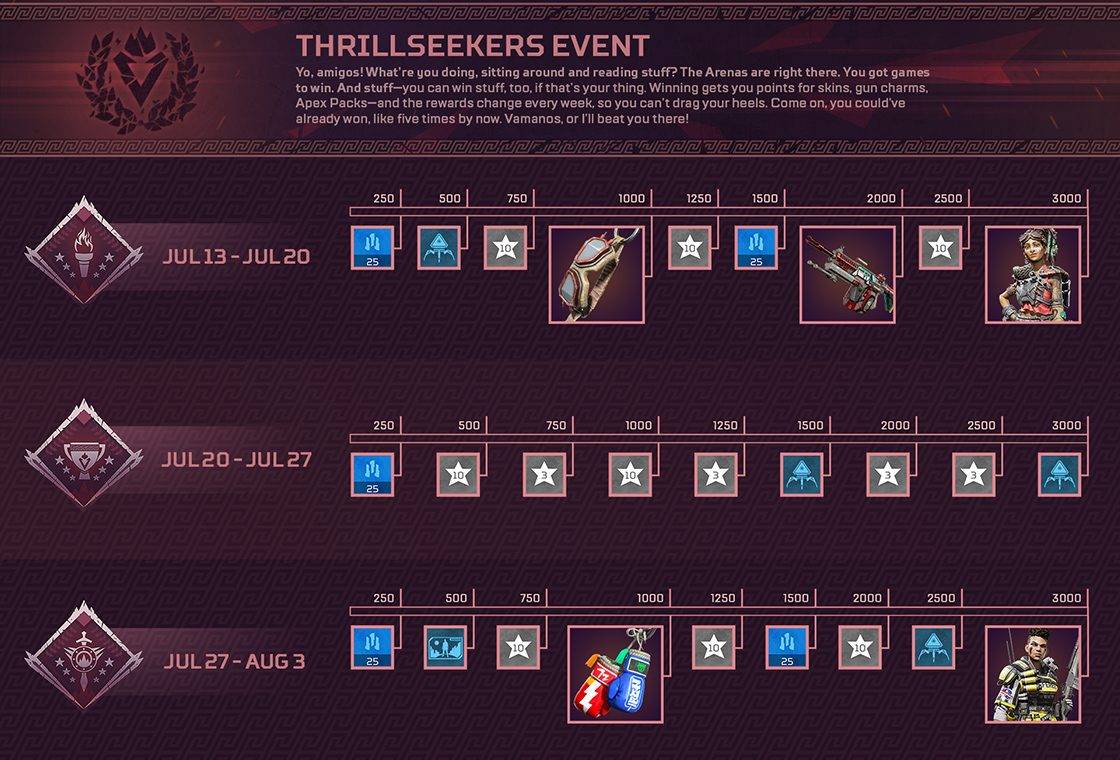 You can earn over 1,000 points per day and challenges refresh daily. There are also stretch challenges that reward four unique badges if you complete them during the event. All of these challenges also stack with your Battle Pass, so you can complete multiple at once.
There will also be three badges you can unlock (per week) for reaching certain milestones in Arenas:
Week 1 Badge: Play 20 Arena Games Total

Week 2 Badge: Get 100 Knockdowns Total in Arenas

Week 3 Badge: Deal 12,000 Damage Total in Arenas
Thrillseekers Cosmetics And Summer Splash Sale
Summer Splash kicks off alongside Thrillseekers - meaning fan favourite skins are returning including Youngblood and Voidwalker.
You can also expect sales on Apex Packs.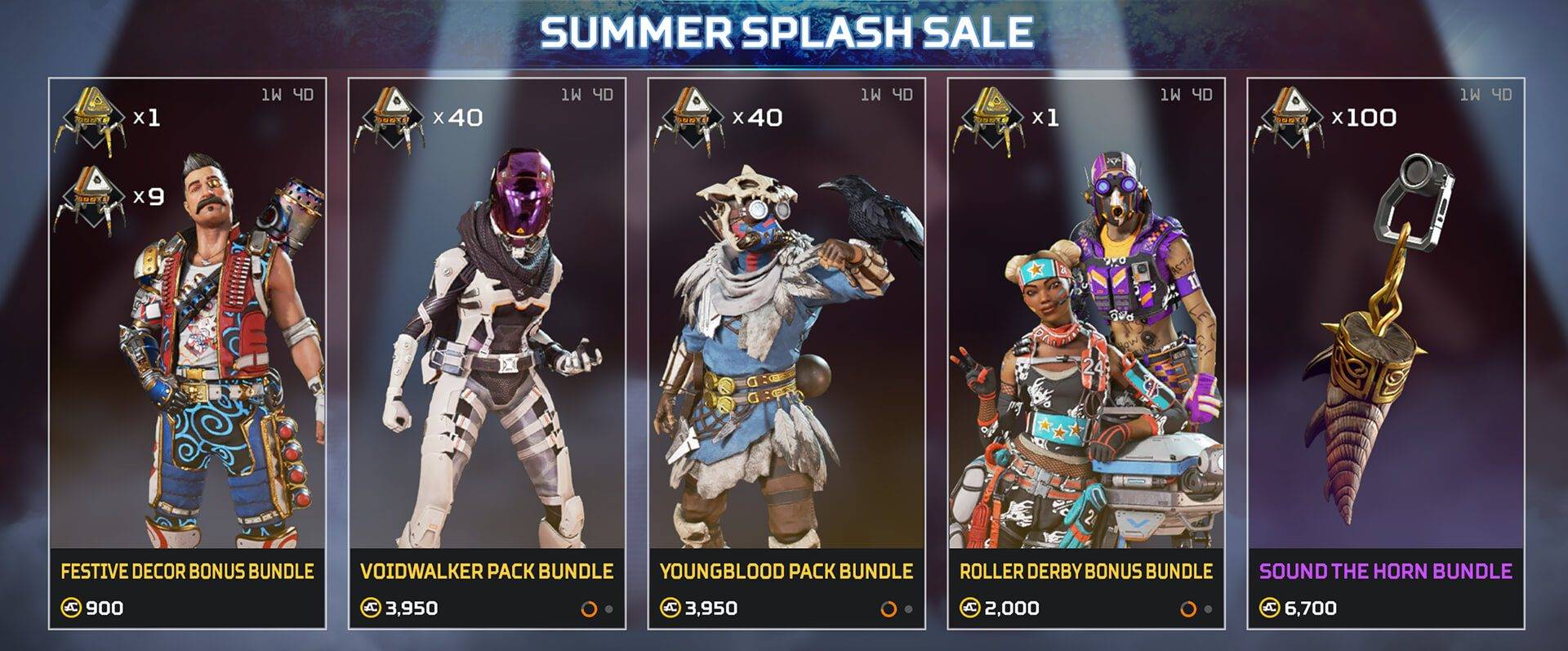 Follow us for the latest updates!