There have been rumors circulating since Battlefield 2042's release trailer dropped as to what the mysterious [REDACTED] game mode could be. Speculation was rampant, but we've finally received some concrete answers. In the latest EA Play Live stream, Christian Grass, general manager of Ripple Effect went over Battlefield Portal, the newest game mode making its way into Battlefield 2042.
Here's everything you need to know about Battlefield Portal, including when you can play it yourself.
What Is Battlefield 2042 Portal?

In a word, Battlefield Portal is chaos.
The game mode is a sandbox in which players can design custom experiences using Battlefield assets from across the franchise. These assets — such as guns, vehicles, maps, and specialty equipment — have been revamped for Battlefield 2042's engine and can seemingly be used all at once. Players can also set up unique restrictions to spice things up, like limiting one team to using only knives while having the other use only planes.
Footage was shown of a gamemode where Battlefield 1942 German soldiers wielding knives fought modern U.S. soldiers equipped solely with defibrillators. EA also showed footage of a Portal experience called "Quality vs. Quantity," which pitted a team of four hyper-advanced 2042 soldiers against 32 soldiers from 1942 with half health. Game modes can be customized with a large degree of leniency; there's a heavy focus on creating a fun time instead of a balanced one.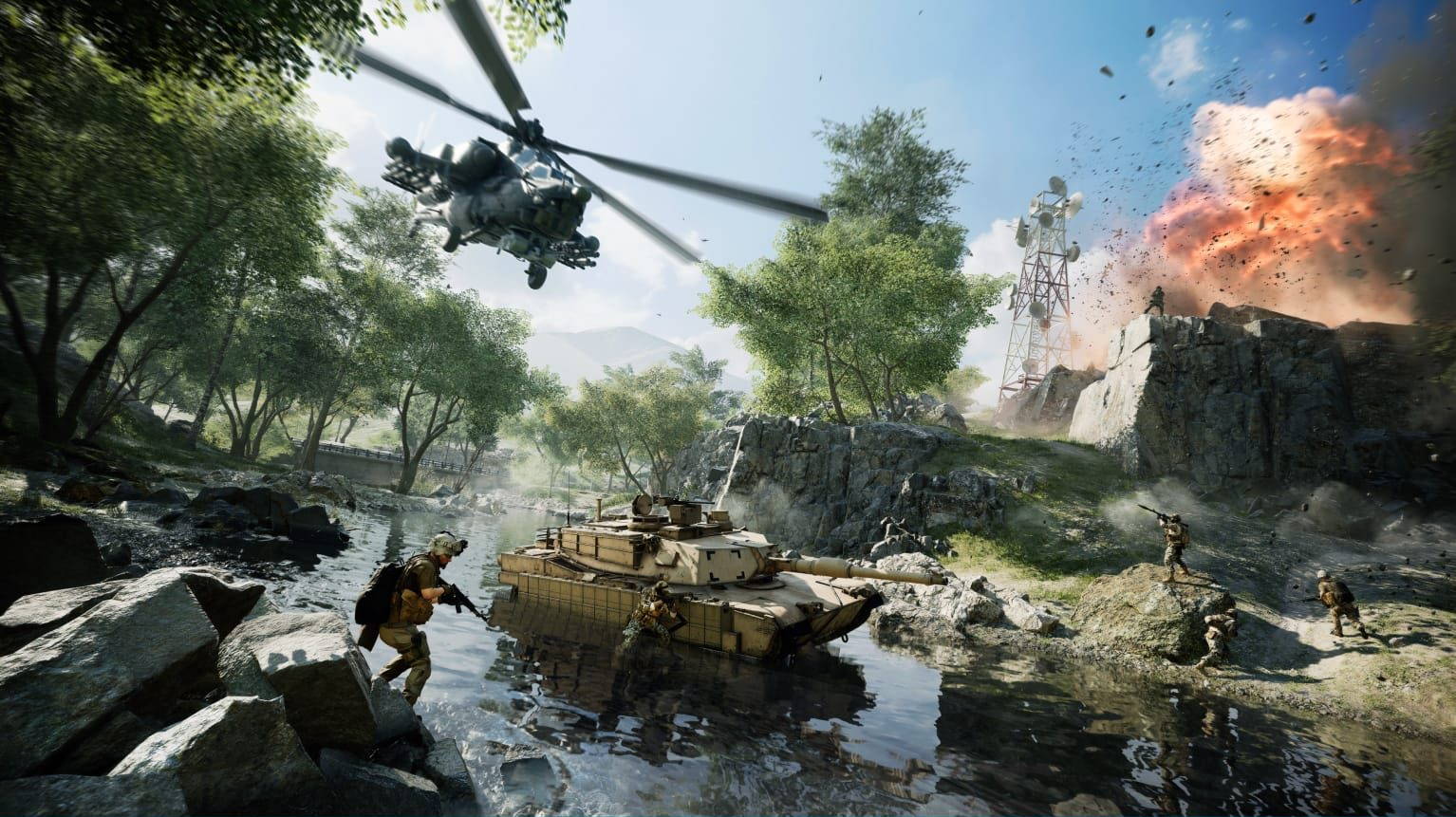 What You Can And Can't Do
There's a large toolbox that players have been given from Ripple Effect to use in Battlefield Portal. Firstly, players can use any of the assets included in Portal while designing a game mode. Ripple Effect has also included an "advanced" logic editor for players to use in designing their game mode. This logic editor had quite a few branches when shown off in the livestream, making it seem extremely versatile.
Players will be able to share, upload, and play experiences off the Battlefield Portal platform from the game's launch. There will also be community servers available that will be able to run custom game modes as well as preset ones like Conquest and Team Deathmatch.
While there is a lot players can do, there are some limitations. First, there is no way to edit maps in Battlefield Portal. Likewise, there are no ways to edit the models of assets like soldiers and tanks. It also doesn't seem likely that players will be able to import custom assets into Portal, but there's no confirmation on this.
Included Battlefield Games
While Battlefield Portal includes games from across the franchise, not every title made the cut. Right now, only a select number of Battlefield games are slated to be a part of Portal at release. The games that will be available to use in Battlefield Portal include:
Battlefield 1942

Battlefield: Bad Company 2

Battlefield 3

Battlefield 2042
While this isn't the biggest selection of games, Grass made it clear that these were the games that would be available at launch. It's entirely possible that more will be added to Battlefield Portal in the future.
Given not every Battlefield title could make it into Portal, it's no surprise that most maps couldn't be redone for the sandbox experience either. However, a lot of fan favorites are set to be included. Here are all the maps confirmed so far for Battlefield Portal:
Caspian Border - BF3

Noshahr Canals - BF3

Arica Harbor - Bad Company 2

Valparaiso - Bad Company 2

El Alamein - 1942

Battle of the Bulge - 1942
The seven maps announced for Battlefield 2042, like Orbital and Renewal, will also be available in Battlefield Portal. Weather systems, like the wailing tornados seen in the game's reveal trailer, are free to toy around within Portal. Of course, the fully-destructible radio tower in Caspian Border is also in Portal. And yes, it can be fully-destroyed. More maps are bound to be added in the future, but for now these maps will be available at launch.
You won't have to wait long to create some custom game modes. Battlefield Portal is releasing with Battlefield 2042's launch on October 22, 2021. Progression is shared between the two, meaning that experience you earn in Portal will count towards your 2042 battle pass. You can check out the full Battlefield Portal trailer here to get the full view of the new game mode as well.
Follow us for the latest updates!
CHECK OUT OUR OTHER STORIES