With Vanguard now in the wild for players to enjoy, users are exploring the many weapons available and there's been some new weapons introduced into the weapon pool that players have flocked too.
The G-43 or Gewehr 43 is has been one of the most iconic weapons from the German army, and it packs a punch to say the least.
Here's the best loadout for the G-43 in Call of Duty: Vanguard.
Best G-43 Class for Vanguard
With a staggering, 10 attachments to pick on your weapon, you're truly spoilt for choice.
When choosing your attachments, you'll want to consider what attachments will improve this weapons weak areas and how you tend to play.
As one would expect with any Marksman Rifle, the G-43 deals some significant damage, but often suffers from a slow rate of fire or a wonky recoil.

Muzzle

Barrel

Optic

Stock

Underbarrel

Magazine

Ammo Type

Rear Grip

Proficiency

Kit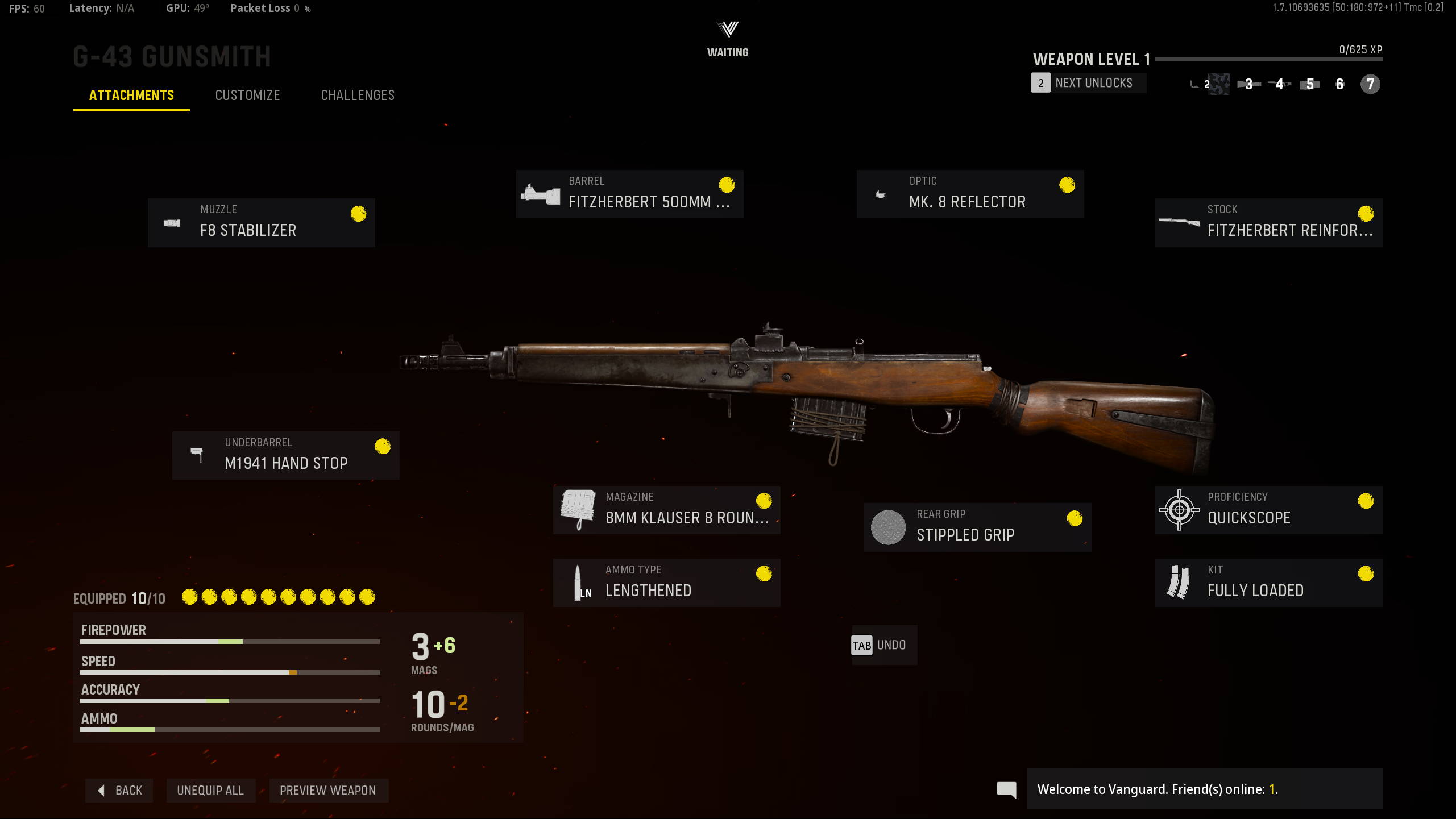 There's some Muzzle attachments that are decent for the G-43, but once again, we've chosen the F8 Stabilizer, as it offer some benefits to recoil control.
Your Barrel choice will be the Fitzherbert 500mm Rapid, as it's the only barrel that bolsters the weapons fire rate, which is all but important for the G-43.
Your Optic comes down to preference in my opinion the MK. 8 Reflector is one of the best within the game.
For Stock, we've the Fitzherbert Reinforced, as it'll greatly benefit the ADS speed and overall recoil for the weapon.
The Underbarrel option is one that's subject to change depending as there's some decent options here once again. We've chosen the M1941 Hand Stop.
The Magazine attachments are vast, and most of them either take away too much damage, or have a major effect on the recoil of the G-43.
So, we've chosen the 8 Round Mags, as they simply just have a little bit less ammo, but reload faster.
We've gone with the Lengthened rounds for this setup, none of the other options are really useable. But, if you want, you can experiment with the FMJ or Subsonic rounds!
More recoil buffs comes into play with the Rear Grip choice we've opted for with the Stippled Grip.
Your Proficiency also has viable options, Quickscope is the one we've gone with, as you get a little bit of ADS speed when initialling aiming.
Your
Kit
option is going to be Fully Loaded, as when using 8 Round Mags, you're going to need as much ammo as possible.

I would go with the Machine Pistol, simply because it's regarded as one of the best pistols within Vanguard. As well, you're going to need something fast if you run out of ammo in a pinch.
The Thermite is one of the more powerful lethal items within Vanguard, and it'll certaintly be annoying for your enemies to constanly have fire in your face.
While on the flipside, the Smoke Grenade is going to be fantastic for masking some choke points and suppresing them with fire.
Ghost

Forward Intel

Overkill
Ghost will keep you off the enemy radar while is always viable at any given time.
Forward Intel gives you a bit of insight to where enemies are coming from, so you can get your G-43 primed and ready.
The third perk is Overkill, as you may want to rock an SMG such as the MP-40 if you're in a pinch and don't want to use the G-43.
Hindering your enemies mini-map is always going to be annoying for the other team, and this is why we've gone the route of Jammer with this class.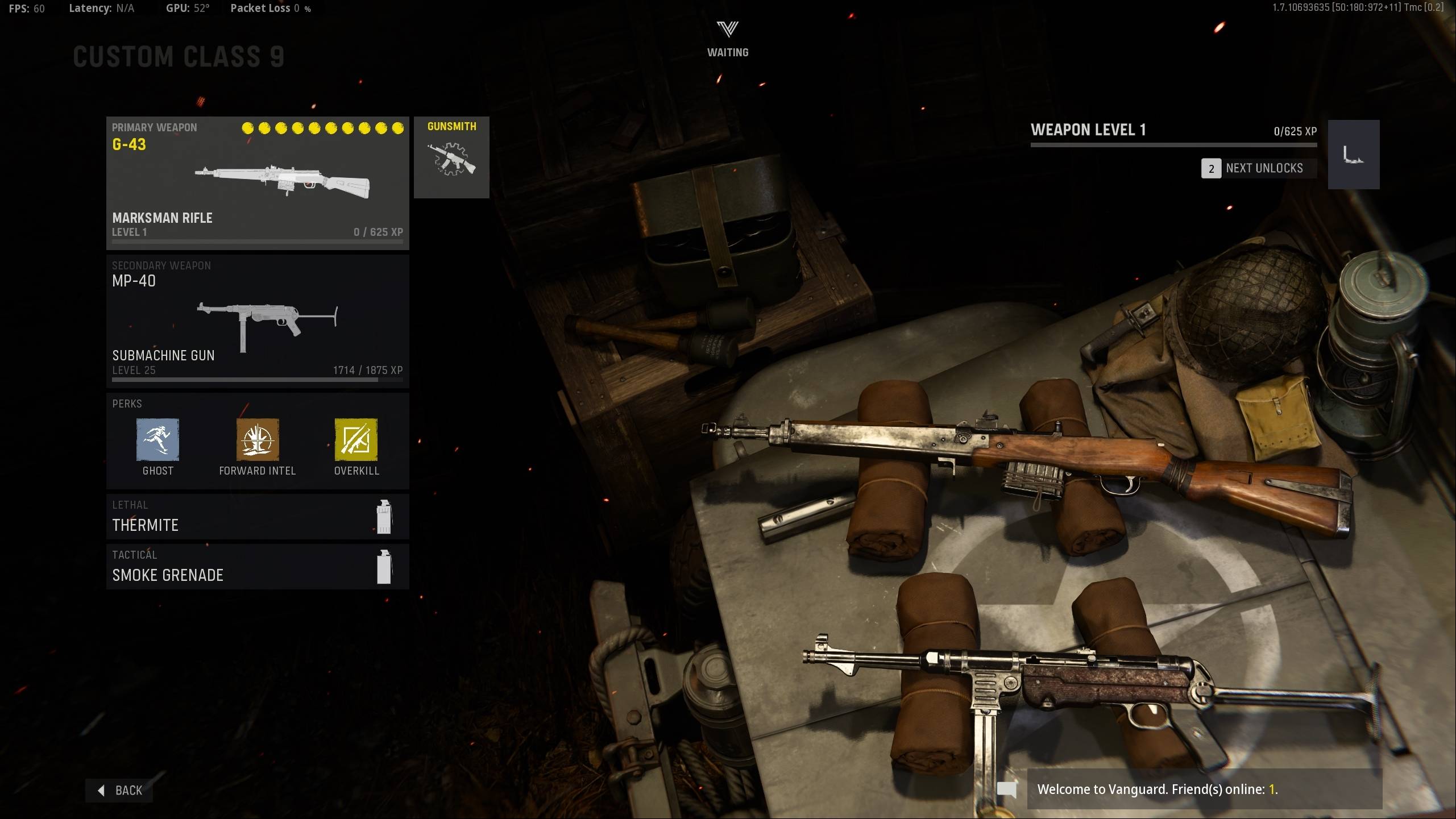 Follow us for the latest updates!