With Vanguard's now in the wild for players to enjoy, users are discovering some of the most powerful weapons within the game..
One of these weapons is the M1928 or better identified as the Thompson. The American SMG was a staple during the United States Army during the Second World War and is best touted for it's versatility within the battlefield and large ammunition.
This weapon is undoubtedly a great best weapon and it shows as more people start to pick it up!
Here's the best loadout for the M1928 in Call of Duty: Vanguard.
Best M1928 Class for Vanguard
With a staggering, 10 attachments to pick on your weapon, you're truly spoilt for choice.
When choosing your attachments, you'll want to consider what attachments will improve this weapons weak areas and how you tend to play.
The M1928 falters when it comes to recoil control, and damage overall, but with certain attachments, both of these issues can be fixed in a instances.
The Thompson falls into the SMG category of weapons, and it'll be viable up close within matches, and due to the construction of the majority of Vanguard's maps, it's range won't be an issue most of the time.

Muzzle

Barrel

Optic

Stock

Underbarrel

Magazine

Ammo Type

Rear Grip

Proficiency

Kit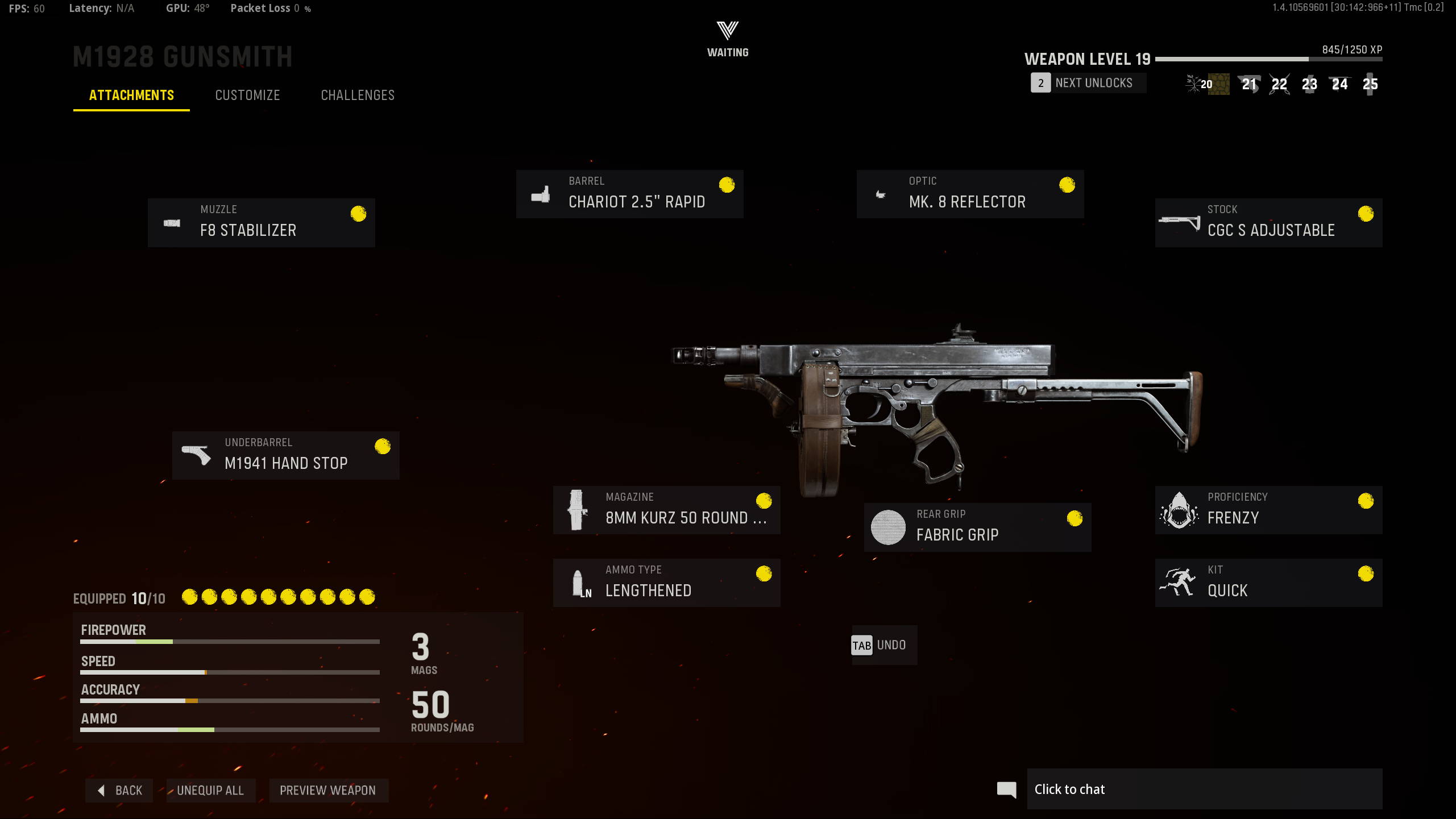 This setup is tailored to getting up close and personal with enemies, mainly due to the oversized ammo you'll have, along with the increased firepower and ADS time.
The Muzzle we've chosen is one of the first ones you unlock for the M1928 and does a decent job at contributing to some of the core factors within the gun.
Your Barrel choices are more limited, but while the Chariot may look a bit funny, it does drastically increase the fire-rate of the weapon, with little sacrifice to sprint to fire speed.
Your Optic comes down to preference in my opinion, but a nice clean optic will never do you wrong.
The Stock choice will see you lose out on some accuracy, but you'll gain back some of the lost sprint to fire speed with this Stock, and your overall movement speed will increase.
The Underbarrel choice is a straight forward choice, with the M1941 giving you better overall recoil control.
If you don't equip a Magazine attachment, it's not the end of the world as they're pretty poor. The 8mm Kurz 50 Round Drum mags are basically just a better version of the stock ones that come with the M1928, so an easy choice here.
Of all the Ammo Types, Lengthened is a classic, increase the Bullet Velocity by 30% to ensure you really pack a punch at range.
Another attachment that you can change our depending on personal preference is the Fabric Grip for the Rear Grip. It'll benefit certain metrics such as ADS speed and sprint to fire speed, so nothing wrong with this choice.
Your Proficiency is a preference call - Fleet or Frenzy are really the only viable options for the Thompson. We'd throw in Sleight of Hand, but with a 50 RD magazine, we don't really see it as a necessity.
Lastly, your Kit will again come down to preference. Most of them don't do much, so Quick basically gives you a little jolt to your movement speed.

I would go with the RATT Pistol as it's a fast firing, reliable option when you need a quick weapon swap.
MK2 Frag Grenade

Stim Shot
The Frag grenade is a solid choice for any scenario and can be used defensively to ward off enemies. The Stim Shot has returned this year, and similar to other iterations, it'll give you a little jolt of HP when you're in a pinch.
Ghost

Piercing Vision

Lightweight
Ghost will keep you off the enemy radar while Piercing Vision will highlight any pesky enemies that try to evade your fire. It will also give your team a good idea of where enemies are. Perk 3 doesn't contain the best choices for this setup, so I'd go with Scavenger for extra ammo.
The Field Mic is the best option here as it gives you lots of vision on nearby enemies coming to spoil your fun. If you didn't take Scavenger as your 3rd perk, you could opt to use the Supply Box instead.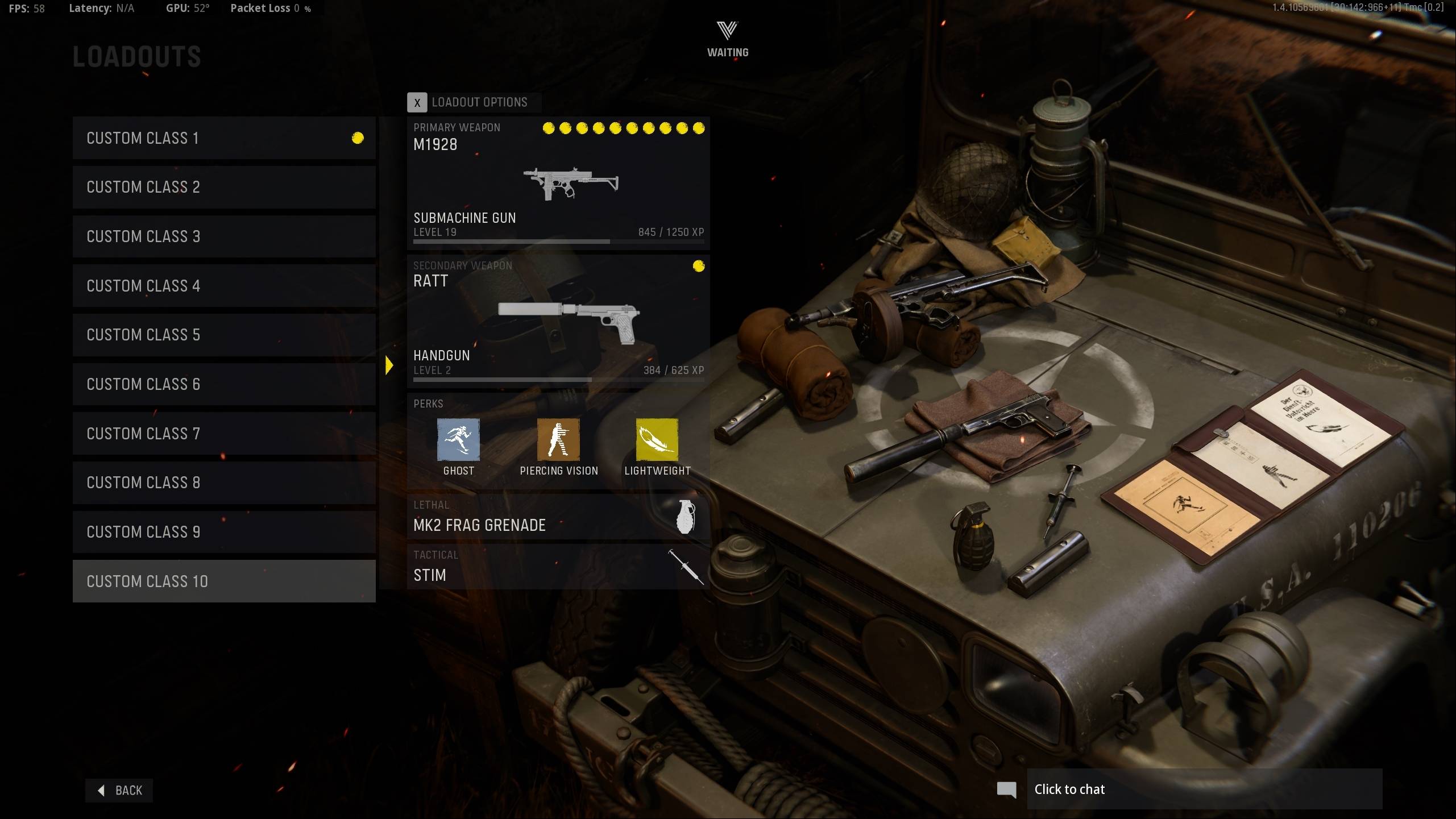 Follow us for the latest updates!