With Vanguard's Beta now in the wild for players to enjoy, users are discovering just how devastating the STG-44 really is.
This German selective-fire assault rifle has always been a strong weapon in Call of Duty titles and once again its proving to be a hot contender for the mantle of go-to guns.
While it's too early to call how good it is, it's unlocked by default in the beta and is a reliable option in the heat of battle.
Here's the best loadout for the STG-44 in Call of Duty: Vanguard's beta.
With a staggering, 10 attachments to pick on your weapon, you're truly spoilt for choice.
When choosing your attachments, you'll want to consider what attachments will improve this weapons weak areas and how you tend to play.
The STG-44 suffers with accuracy and damage at range. While it's probably still the best weapon for range, it can be much better.
Considering its an Assault rifle, running and gunning is probably not something you'll do a huge amount of with this weapon.
Here are the attachments we recommend:
Scythe Compensator (Muzzle)

VDD 760MM 05B (Barrel)

Spitfire MK. 3 Reflector (Optic)

VDD 27 Precision (Stock)

M190 Madson (Underbarrel)

8MM Kurz 45 Round Drums (Magazine)

Lengthened (Ammo Type)

Stippled Grip (Rear Grip)

Focus (Proficiency)

On-Hand (Kit)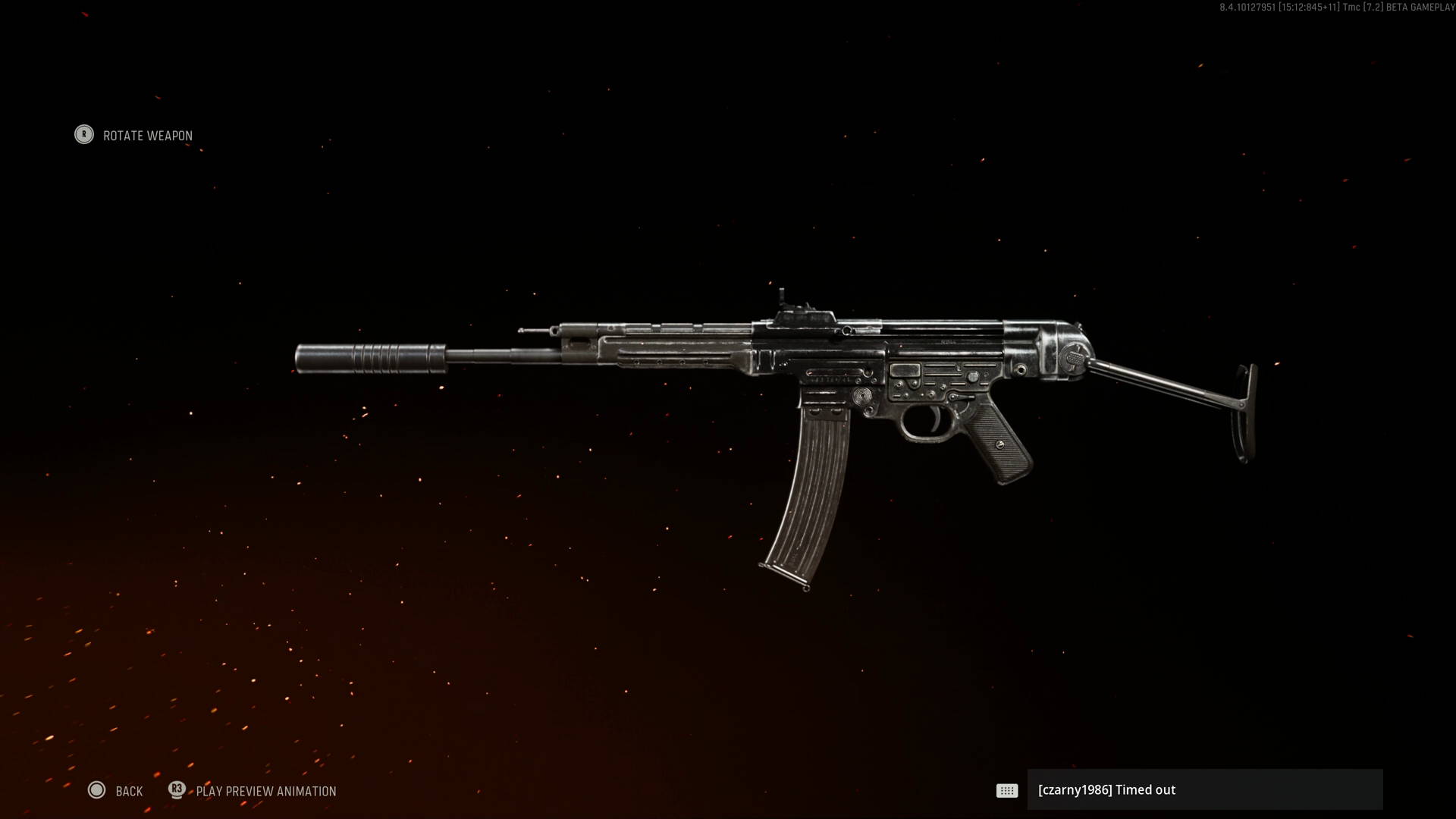 This should help to improve the accuracy and damage of the weapon without being heavily penalised in other areas. With a number of Muzzle attachments, it's the first one that actually provides most benefit without the drawbacks.
Your Barrel choices are more limited, but sacrificing some movement speed for more accuracy and damage at range is a worthwhile trade off.
Your Optic comes down to preference in my opinion, but a nice clean optic will never do you wrong. If you want something with more range, try the Zeiss G16 2.5X.
Again, the Stock choice will see you lose out on some movement speed but it will greatly improve your accuracy so you won't need to worry about moving much.
If you don't equip a Magazine attachment, it's not the end of the world as they're pretty poor. They provide lots of benefits but at a high cost. The 8MM Kurz 45 Round Drums has to be the best option as it barely lowers your speed while giving you a massive increase in magazine capcity.
Of all the Ammo Types, Lengthened is a classic, increase the Bullet Velocity by 30% to ensure you really pack a punch at range.
Another familiar attachment is the Stippled Grip for Rear Grip. This improves vertical, horizontal and centering speed with no drawbacks.
Your Proficiency is a preference call - Vital, Acrobatic, Nerves of Steel, Focus and Sleight of Hand are all solid choices. I personally would choose Focus for long range fights to ensure I stay on target.
Lastly, your Kit will again come down to preference. I don't like most of the options here so I'll just opt to use On-Hand for quick equipment juggling in sticky situations.
As the beta is still new and the final game will no doubt change on release, don't take our word for gospel and we encourage you try out your own creations. We'll be updating this regularly to give you the best setup possible.
Ghost, Radar and Overkill are your best choices.
Ghost will keep you hidden while moving, Radar will give you a heads up on the mini map where players are that are using unsuppressed weapons and Overkill is likely to be the best all-round perk 3 choice.
Since we're using Overkill, a strong SMG like the MP40 will go down a treat and give you a nice combination with the STG-44. You'll be able to succeed at both long and short range.
Use the MK2 Frag Grenade and Stim, although you may want to side with your own personal preference.
Follow us for the latest updates!