What does the Crew have for you?
As March comes to a close, a new Fortnite Crew Pack will be available at the start of April.
If you've yet to jump into Chapter 3 Season 2, the latest is wild and certainly refreshing as building has been temporarily disabled.
With a new month coming, it's another opportunity for players to pick up a unique skin and some goodies for playing their favourite game.
Here's what we know about the Fortnite Crew Pack for April 2022.
The new Crew Pack should go live at 8PM ET on March 31st - that's 1AM BST on the 1st of April in the UK.

As of now, we don't know the crew pack details for the month of April, but we're sure this is going to change within the coming days.
Every month, players can expect to get a series of cosmetics and benefits - usually including an Outfit, Back Bling, Pickaxe and Wrap.
Though hooded and masked, Sayara is unhindered in the April 2022 Crew Pack.
In addition to the Sayara Outfit, the April Crew Pack contains the following items:
Fangs of Sayara Back Bling: A Back Bling holding two blades. (Both as sharp as Sayara's senses.)

Dual Machettas Pickaxe: No hand's idle with this dual-wield Pickaxe.

Sayara Sight Wrap: Make even your gear a reminder of Sayara.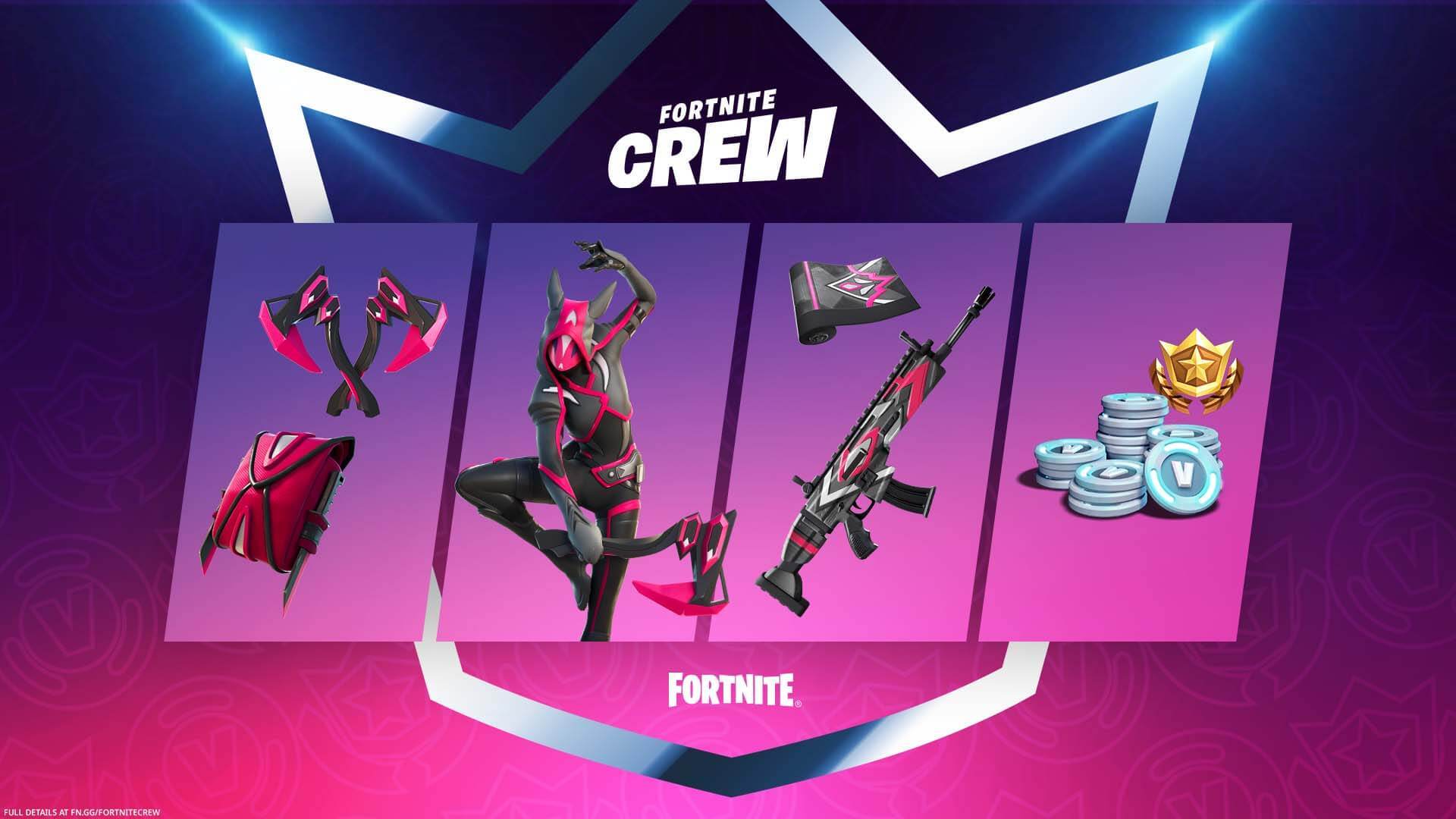 Every month, players can expect to get a series of cosmetics and benefits - usually including an Outfit, Back Bling, Pickaxe and Wrap.
You'll also get the current Battle Pass for free. If you already own in, you'll receive 950 V-Bucks instead; that is on top of an extra 1,000 V-Bucks too.
Players can expect:
New Outfit + Set

1,000 V-Bucks

CH3S2 Battle Pass
Your Subscription is associated with the platform on which you purchased it (your "Primary Platform") until it is cancelled and is not transferable.

How Does The Battle Pass Work?
If you tend to buy Battle Passes, season after season, this could be for you. With the Fortnite Crew subscription, you'll always get access to the current Season's Battle Pass for free. What's even better is if you buy the Battle Pass and then sign up to Fortnite Crew, you'll get your V-Bucks refunded to you.
To join the Fortnite Crew and start your subscription, you should head to the Item Shop in-game or the Battle Pass purchase screen.
This will give you the opportunity to purchase a subscription.
The cost of the Fortnite Crew Subscription is £9.99 a month in the UK, €11.99 in Europe and $11.99 in the US.
You can cancel your subscription at any time and you get to keep your rewards.
To cancel your Fortnite Crew subscription, go directly in-game to the Fortnite Crew tab.
Even after cancelling your membership, you will be eligbile for rewards until the end of your current billing period.
You'll keep all rewards you've earned from previous packs even once you cancelled.
Follow us for the latest updates!