Overwatch 2 has now released worldwide, and Blizzard's latest entry into the series has improved in all aspects compared to it's original release.
Competitive, has been soaring since the game released, but seasoned OW players always know that seasonal events are the cream of the crop.
Here's all you need to know about Overwatch 2's Halloween Event for 2022!
Overwatch Halloween Event Start and End Date

The first seasonal event is of course going to be Halloween themed, and will be titled Junkenstein's Revenge: Wrath of the Bride, and will begin on October 25th, 2022 and will run until November 8th, 2022.

Overwatch Halloween Event Skins

The following heroes have been confirmed to get skins for Halloween and the Junkenstein's Revenge: Wrath of the Bride event.
Junker Queen

Kiriko

Sojourn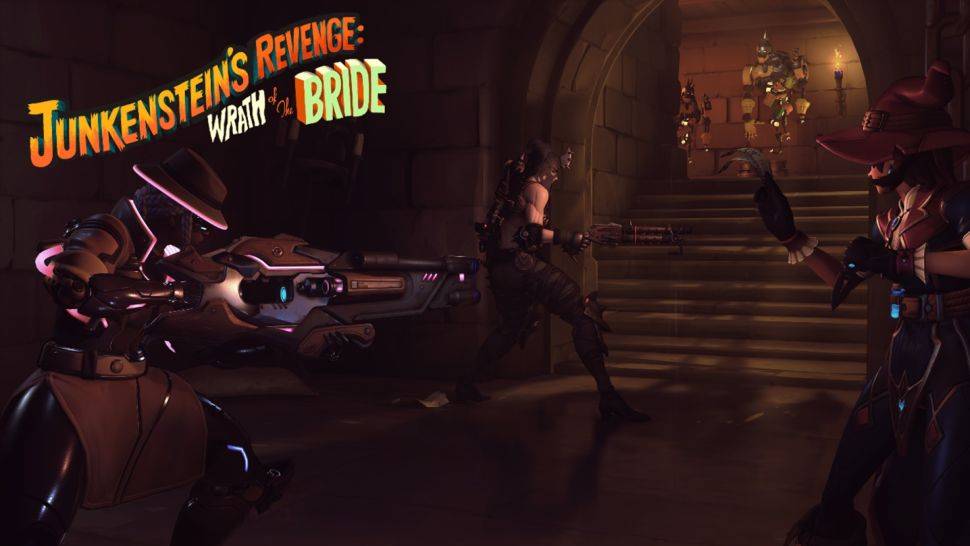 Overwatch Halloween Event Details

It's time to celebrate another year of fear: Halloween Terror is returning to Overwatch! Get ready for a shock, because this event introduces the next chapter in the saga of the devious Dr. Junkenstein through our all-new, limited time co-op mission, Junkenstein's Revenge: Wrath of the Bride.
Return to Adlersbrunn alongside four fresh faces to experience an all-new story as the Bride of Junkenstein seeks vengeance upon those responsible for the death of her creator. As we near the anniversary of the mad doctor's revenge, learn more about this year's event directly from the desk of the Lord of Adlersbrunn. 
Complete challenges to unlock special rewards like the Nightfall Over Adlersbrunn Name Card, the Jack-o'-Lantern Weapon Charm, Battle Pass XP, and other spine-tingling rewards. Dr. Junkenstein himself will also be making a grand reappearance in the original Junkenstein's Revenge co-op Brawl, returning for a limited time to Halloween Terror 2022.
From October 25 until November 9, join your fellow heroes to confront a host of haunting horrors as you seek to safeguard Eichenwalde— or fall to the Bride's retribution.
No tricks, only treats
Unlock even more spooky rewards during Halloween Terror by watching your favorite streamers on Twitch! Starting October 25 through November 1 at 11:00 a.m. PDT, all channels streaming under the Overwatch 2 category will have terrifically terrifying Twitch drops.
Viewers can earn the following rewards at:
2 hours watched: Werewolf Winston Spray
4 hours watched: Werewolf Winston Legendary Skin
Don't forget to connect your Twitch account through Battle.net to earn your rewards. Players who changed their password since the last campaign need to sign into their account again to claim future Twitch drops. The Halloween Terror Twitch drops are also available on all platforms, and participating regions include North America, Europe, Latin America, Australia/New Zealand, Taiwan, Korea, and Southeast Asia.
Destiny calls, fortune follows
Along with the haunting holiday events, we're running a Double Match XP weekend starting October 28-31 as we follow through on our promise from launch week. All players who login to Overwatch 2 from the start of the Halloween Terror event through the end of Season One will also receive the Cursed Captain Reaper Legendary Skin and the Health Pack Weapon Charm.
Of course, the fun doesn't stop there. Earn the Werewolf Winston item drops while watching your favorite Overwatch 2 Twitch creators and unlock more free rewards through crushing special Junkenstein challenges throughout Halloween Terror.
We're expanding on the story of Junkenstein's Revenge through Wrath of the Bride and adding spooky new skins and bundles to the Overwatch Shop. We look forward to sharing in all the fearsome festivities in Overwatch 2's first Halloween Terror event running October 25 through November 9!
Face the wrath of the Bride—if you dare.  
Overwatch Halloween Event Free Skins

With loot boxes no longer in play, we can assume in terms of events, Blizzard is either going to make cosmetics puchasable via the in-game store.
Or, do a seperate event battle pass, similar to what other titles such as Fortnite, and Apex Legends do.
However, they've already announced one skin that will be free for players for just logging in, and this comes in the form of the Cursed Reaper skin.
To claim this skin follow the steps below.
The team continues to work to deploy further stability updates, with another patch planned for later this week, and we are monitoring the game closely for emergent issues and bugs. We've been keeping you all up to date on the forums with separate posts, but moving forward, our known issues will be tracked here.
We apologize for any issues players experienced around the game's launch. To help make up for any lost time, we're planning to run several Double Match XP weekends: we will confirm the specific dates for these soon. We'll also be giving all players who log in from October 25 through to the end of Season One an all-new Cursed Captain Reaper Legendary skin and a Health Pack Weapon Charm. These items will become part of your collection from the first time you log in during that time window.
Overwatch Halloween Details

While Blizzard hasn't shared much around the event, they've detailed that we're going to be able to play as Sojourn, Junker Queen, Kiriko, and Ashe for the event specific mode.
However, we'll be sure to update this page as we hear more news.