An easy way to improve your game is to improve your setup and the equipment you use.
There are a lot of products on offer and it can be overwhelming picking products that fulfill your needs.
If you're looking to level up your game with some hardware, our Pro Setup is going to put you in the right direction in order to become the best gamer you can be.
What Is The ROCCAT Pro Setup?
There's no doubt we offer some amazing gaming peripherals for players to pick and choose from. From our new line of SENSE mousepads, to the wide array of keyboards and mice we've released over the last couple of years; the options are endless.
But, while we do offer some budget friendly options, some of our hardware falls into our ROCCAT Pro line.
This is reserved for what we, and some of our influencers, believe to be the best hardware available to benefit your gameplay. Some of these differences can be subtle, while others are far more complex.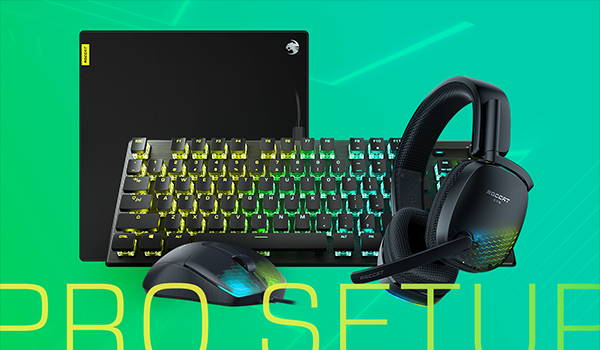 THE PRO SETUP: Vulcan TKL Pro, Kone Pro Air, Syn Pro Air and SENSE Pro
We've made this TKL keyboard to allow players to have more space on top of their desks, while not sacrificing any performance at the same time. The Vulcan TKL Pro features Titan Switches that have an ultra fast actuation point, making sure you're always ready to click the keys you'll need.
The Vulcan TKL Pro keyboard's actuation point is going to be beneficial for titles such as Fortnite, Apex, League of Legends and CS:GO. All of these games require you to be ultra-fast when it comes to hitting keys, and the actuation point is going to make this movement faster.
Coconutbrah, known for his skills in Rainbow Six Siege, said his favorite product is "definitely the Vulcan Pro TKL. The low latency, the fast timing. Everything is so responsive which is extremely important in games, especially in Rainbow Six Siege."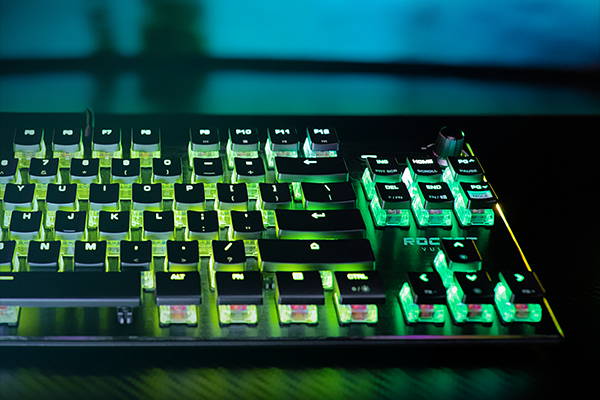 EXPERIENCE CONTROL: The TKL Pro delivers lightspeed actuation and incredible precision
Lightweight mice are all the rave nowadays, mainly due to the reduced time it takes to go from one place to another. After 14 years of hard work, trying to manufacture a mouse that we believe is right for gamers, we've landed with the Kone Pro Air. Coming in at just 75 grams, you won't have any problem slinging this back and forth on your mousepad.
The Kone Pro Air's low weight is going to be exceptional when it comes to games that require fast flicks such as CS:GO, Valorant and Fortnite. You'll have no trouble snapping onto opponents heads from one side of the screen to the other.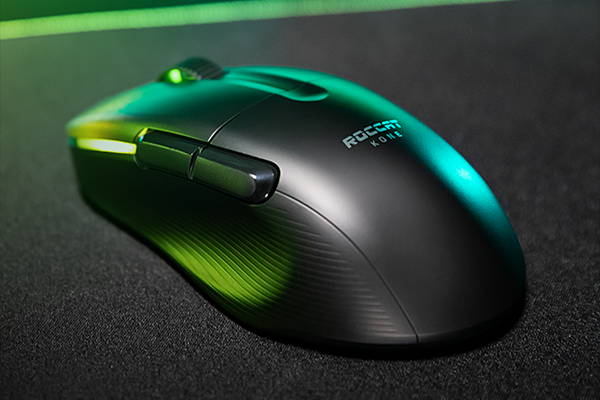 LIGHT WORK: At just 75g, this Mouse will give you the competitive edge
A gaming headset is one of the most essential parts of any setup and having a wireless headset gives you serious freedom. Our Syn Pro Air is just what you'll want to grab, as it offers Superhuman Hearing combined with 3D audio to immerse yourself in your game of choice. This is a gamechanger in games such as Fortnite and Rainbow Six Siege where opponents rapidly and consistently approach from different verticality; allowing you to get a precise lock on where they are and what they're doing.
HEAR EVERYTHING: The Superhuman technology and 3D Audio will let you hear everyone
As part of our newest line of SENSE gaming products, the SENSE Pro mousepad, is the best of the best that we've released. This pad is made with polyester fabric, giving players a smooth yet swift glide speed with their mouse. Making sure you're not getting any hitches when moving, and it'll last quite a long time as we've also used military grade materials within. By using this pad, you will be able to turn rapidly, whilst maintaining full control of your aim in titles such as Valorant, CSGO or Apex Legends.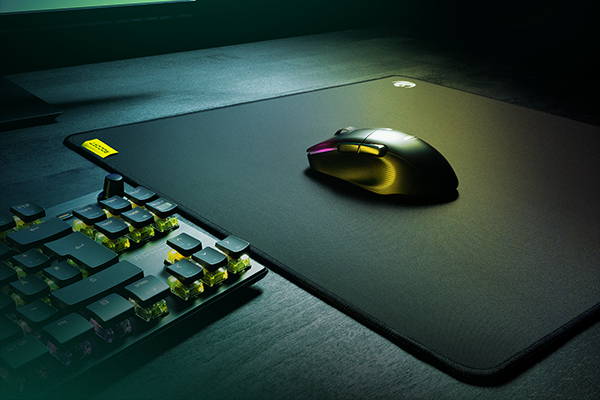 FAST AND FURIOUS: The greatest pad we've made giving you a firm but fast glide