Warzone players are dropping into Caldera with fresh loadouts, as the Season 2 update for Vanguard has finally been released. Every update brings a drastic change to the meta within Warzone, and you'll need to combat some seriously nasty setups. Earning that coveted victory royale is no mean feat, so here are five of the best weapons and loadouts in Call of Duty: Warzone Season 2.
Vanguard's Cooper Carbine shocked players when it arrived. The surprisingly brutal AR continues to remain a staple in loadouts due to its versatility and impressive rate of fire. This particular weapon is a demon at close range, especially when you equip it with the following attachments:

Ammo Type: Compressed Rounds

Rear Grip: Polymer Grip

Proficiency: Vital

Kit: Fully Loaded

Muzzle: MX Silencer

Barrel: 22″ Cooper Custom

Optic: Slate Reflector

Stock: Removed Stock

Underbarrel: Mark VI Skeletal

Magazine: 9mm 60 Round Drums
This setup bears more of a resemblance to that of an SMG, but trust us, the firepower of the Cooper Carbine will let enemies know that you mean business at any range.

If you fancy yourself a marksman, then the Swiss K32 rifle from Black Ops Cold War will suit you. It may not be as popular as the Modern Warfare iteration of the Kar98k, but it's a beast of a rifle in its own right. It already packs a hefty punch, but this setup will maximize the potential of the rifle's power:
Rear Grip: Serpent Grip

Stock: SAS Combat Stock

Muzzle: GRU Suppressor

Barrel: 24.9″ Combat Recon

Laser: SWAT 5mw Laser Sight
As long as you run with this with a suitable secondary weapon (we recommend using the Overkill perk), you'll be equipped to dispatch enemies with ease no matter what the situation.

LMGs are normally left behind due to their sluggish nature. But make no mistake, the Bren is a certified death machine in Warzone. It may have a challenging recoil pattern, but with this setup that buffs long-range engagements, you'll be dropping enemies like flies:

Ammo Type: Hollow Point

Rear Grip: Fabric Grip

Perk: Tight Grip

Perk2: Quick

Muzzle: MX Silencer

Barrel: Queen's 705mm Royal

Optic: G16 2.5x

Stock: Queen's Model 11 BH

Underbarrel: Heavy Foregrip

Magazine: 6.5 Sakura 40 Round Mags
The Bren might not be for everyone, but its reliability has ensured its place within the meta for quite some time.
The Kar98k's appearance is no surprise, as this ever-reliable rifle has proved itself to be an outstanding weapon for any playstyle. Whether you prefer to snipe your opponents at range or flex on them with some incredible close quarters skill, the Modern Warfare version of this classic weapon is sure to provide a few wins in Warzone:
Laser: Tac Laser

Stock: FTAC Sport Comb

Muzzle: Monolithic Suppressor

Optic: Sniper Scope

Barrel: Singuard Custom 27.6″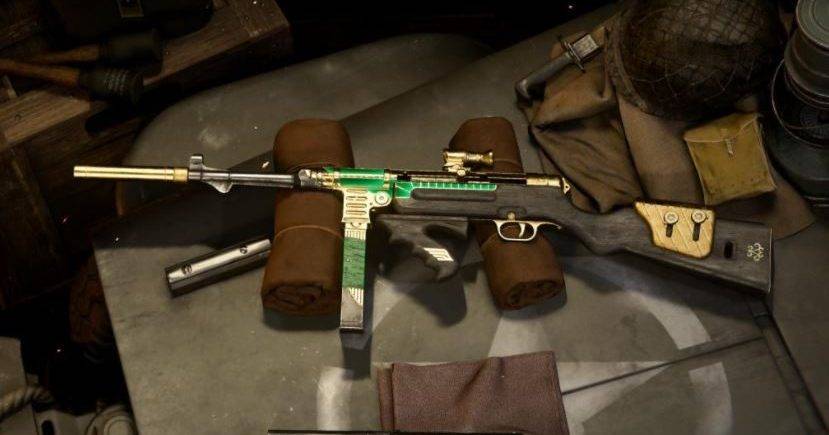 The MP40 has appeared in different Call of Duty games before, but the Vanguard version of the WWII-era SMG has carved a firm place within the Warzone meta. Ideal for players who prefer an aggressive playstyle, this classic weapon is hard to beat:
Rear Grip: Fabric Rear Grip

Proficiency: Steady

Kit: Quick

Muzzle: Recoil Booster

Barrel: Krausnick 317mm 04B

Optic: Slate Reflector

Stock: VDD 35 M Wire Grip

Underbarrel: Mark VI Skeletal

Magazine: 8mm Kurz 32 Round Mags

Ammo Type: Incendiary
Article author: Sam Comrie is a journalist and filmmaker based in Sheffield, UK. When he isn't causing chaos in Just Cause 2, you can find him listening to Foo Fighters on repeat 24/7. Seen at NME, Red Bull Gaming, From Gamers Magazine, and JumpCut PLAY.